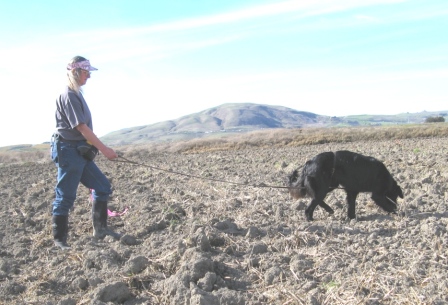 CURRENTLY TEACHING TRACKING, NOSEWORK AND TEAM
CLASSES IN VALLEJO/BENECIA, CALIFORNIA.
CALL IF YOU'RE INTERESTED 707-373-9163 AND LEAVE A
MESSAGE. OR EMAIL TO HOVISTORE@AOL.COM
I ALSO GIVE PRIVATE INSTRUCTIONS
I only teach small classes. Usually about 4 or less students.
This way everyone gets the personal attention they need.
TRACKING: Thursday and Saturday starting at 9 am
we got plenty of rain, so we will be tracking in the hills. Now is the time to start. Actually tracking season will be pretty short. Limited space available
Scent work: Thursday 3 pm and Sunday 9 am
Drop ins welcome if dog is already on scent. There will be 3-4 search areas depending on complexity
This is from a seminar I attended a couple weeks ago. Unknown number of hides (Dori found 6 out of 8).
TEAM: Tuesday 9 am
My dogs Cari and Dori have TEAM 1+, Ekko has TEAM 2 and Amsie has TEAM 3
For me training a dog has to be fun or at least a pleasant experience for both, dog and handler.
I always try to adjust to the individual temperament of the dog. Each dog learns different and I try to adjust my training accordingly. I only use positive and kind methods.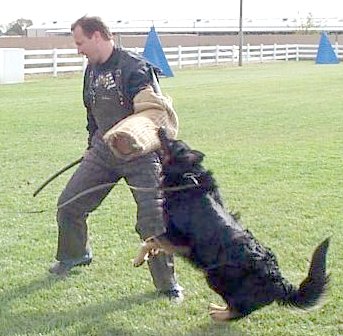 EXPERIENCE:
Search&Rescue:
trained 4 different dogs to Mission Ready status in different specialties: Wilderness, Disaster, Water and Cadaver searching, and FEMA certified 3 of them.
Been trainings advisor for local groups several years and helped train numerous dogs to Mission Ready status.
Have participated with my dogs in about 150 different searches while being a member of S&R for about 10 years.
AWESOME PEOPLE I LEARNED FROM ABOUT POSITIVE TRAINING EARLY ON:
SHEILA BOOTH
GOTTFRIED DILDEI
JOAN PLUMB
STEVE WHITE
KAREN PRYOR
JEAN DONALDSON
PATRICIA GAIL BURNHAM
EKARD LIND
LESLIE McDEVITT
SUSAN GARRETT
TEMPLE GRANDIN
AND MANY MANY MORE!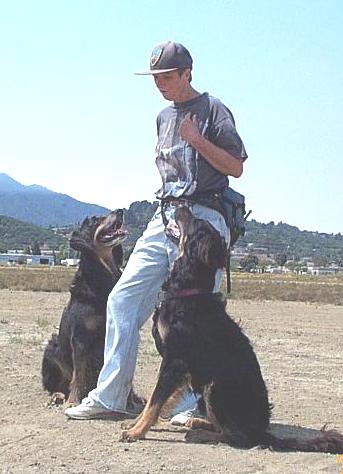 Allessa and Chara waiting for further action!
Schutzhund:
trained three of my dogs to highest level (SCH3) and/or highest level in tracking (FH2)
Almost all of this training was done with motivation and positive training.
Trained and trialed several other dogs to their BH's.

Tracking:
I have 30 years of tracking experience with dogs. All different styles including AKC tracking, trailing and Schutzhund tracking. We have achieved several TD's and FH2's.
I also have been teaching classes and giving private lessons for about 20 years and have taught lots of different breeds, from Newfoundland to Dachshund.
Nosework: Approved AKC Judge
teaching classes for about 5 years and have several titles on my dogs from different organisations
Obedience:
Done AKC obedience competition and Schutzhund has high level obedience as part of the certification. My oldest at 10 years achieved the Rally Excellent title in six month with all passing scores.
Helped numerous owners to get the best out of their dogs and teach them how to teach their canine pal to be a great member of the family and be the companion they love to live with.